Kankick

Traditional Heritage

(Smoggy Day)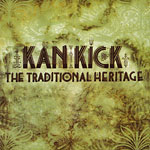 I don't know why KanKick isn't on his way to being a super producer of Madlib or J.Dilla –esque proportions. He emerged out of the same Oxnard camp as Madlib, Lootpack etc and some beats on Traditional Heritage reflect this musical commonality – manifested in the dustiest of crate digging, and a varied style informed by extensive musical intelligence. There was a brief flurry of recognition and props around 2001 for his work on Declaime's Andsoitissaid album of which he produced a chunk, and his own stellar (but generally slept-on) debut From Artz Unknown but somehow that has never translated into more high profile releases. There's been a few other production appearances here and there including on Wildchild's Jackal EP and one track on Oh No's recent album The Disrupt, but seemingly no consistent output.
So when I happened upon this CD on the shelves of Amoeba I was pleasantly surprised to see his name in print again, although a tad dismayed that there had been no publicity or awareness generated. Either way, it's a solid collection of beats (and the occasional rhyme) all taken from the time period '96 – 2000 which displays his blunted, diverse styles.



I have since learned that this CD was released in a run of only 1000 – so best pick it up if you are able to find it. According to the scant liner notes, and an ensuing email from the man himself, KanKick has some new 'ish coming up including Acid Massive Musical. Looking forward to that – more news as I get it. Meanwhile keep your eyes open for Traditional Heritage.